The Case of Juan Garza - Facts
The Case of Juan Garza

The Facts
The Suspect
Juan Raul Garza, a Mexican-American born in the United States, was the son of migrant workers in southern Texas. Despite having dropped out of high school, Garza owned a successful construction business in Brownsville, Texas. He was well known in the community as a devoted father of four children and the son-in-law of one of the town's most respected pastors. Garza was also the head of a drug-running operation that smuggled thousands of kilograms of marijuana into the United States from Mexico during the 1980s and early 1990s.
The Crime and Victims
Juan Garza controlled a drug ring operating in Texas, Louisiana and Michigan. Garza's organization started by running small quantities of marijuana across the Mexican border. Within a few years, Garza was making frequent trips to Oaxaca, where the marijuana was grown, and transporting it by plane to the northern Mexican border. During the management of his marijuana trafficking enterprise, according to the the prosecution's case, Garza killed or ordered the murder of three of his associates.
In early 1990, Garza suspected one of his smugglers, Erasmo De La Fuente, was giving information to the police. As a warning to De La Fuente, Garza ordered two of his associates, Manuel Flores and Israel Flores, to murder Gilberto Matos, an associate of De Le Fuente. Matos' body was discovered in his auto body shop on April 3, 1990. Five months later, Manuel Flores shot De La Fuente, 32, with the aid of Israel Flores and his cousin Jesus. His body was found in Brownsville on September 8, 1990.
Garza also suspected his associate, Thomas Rumbo, of being an informant. In January of 1991, Garza shot Rumbo five times in the head and neck. Rumbo, 35, was also a truck fleet manager who was active in both the Boy Scouts and the Methodist Church.
Indictment, Arrest, and Capital Charges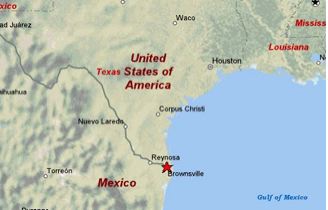 By 1992, U.S. Customs agents had launched an investigation of Juan Garza and his organization. Garza, initially indicted by a federal grand jury on non-capital federal drug trafficking charges, fled to Mexico after U.S. Custom agents raided his Brownsville home on February 6, 1992. Thirteen other members of Garza's organization were arrested and eventually convicted as a result of this raid.
Garza was arrested in Mexico on November 6, 1992 and subsequently extradited to the United States on federal drug trafficking charges. Upon arrival in the U.S., Garza was arrested immediately by U.S. Customs agents. On January 3, 1993, a federal grand jury issued a new indictment, charging Garza with:
3 counts of homicide as part of a Continuing Criminal Enterprise (CCE)
5 counts of possession of marijuana and intent to distribute
1 count of engaging in a CCE
1 count of money laundering.
Based upon a federal law enacted in 1988, homicide as part of a CCE is an offense that can carry a death sentence. The Anti-Drug Abuse Act of 1988, 21 U.S.C. § 848(e), also known as the "Drug Kingpin Act," states that the death penalty is a possible punishment for anyone who intentionally kills or
causes an intentional killing of any person while (1) engaging in or (2) working in furtherance of any continuing criminal enterprise, or (3) while engaging in a major Federal drug felony.
On January 7, 1993, after approval by U.S. Attorney General William Barr, the U.S. Attorney for the Southern District of Texas filed a Notice of Intention to Seek the Death Penalty.